Gala Games accidentally handed out placeholder art NFTs for Grit
Gala Games has clarified that the first NFT being offered for Grit, the first blockchain game being released on the Epic Games Store, made use of a "placeholder asset" from the Unreal Engine asset store that will be replaced in the near future. According to statement provided to Game Developer, the use of a 3D horse model listed for sale on the Unreal Engine asset store was not intentional.
"The Grit horse NFT pictured in the tweets was a placeholder asset. The NFT, which was given away for free and exclusive to Galaverse attendees, will be replaced with the correct image when finalized," the company said. "In our rush to get things ready for Galaverse we didn't replace the Grit placeholder image. It has been taken down."
Yesterday's debut of Grit came with a small controversy when Apex Legends senior character artist Liz Edwards noticed that an NFT (non-fungible token) being given away to Galaverse attendees looked very familiar. It turns out the image tied to the blockchain asset was a 3D model created by Unreal Engine asset store vendor Alexander Spivak. 
(Edwards did notice that other NFTs given away by Gala Games also made use of third-party 3D assets found on the Unreal Engine asset store.)
Can purchased 3D assets be used as NFTs?
The use of Spivak's model as an NFT raised eyebrows among social media users, who wondered if purchasing assets on the Unreal Engine asset store granted permission to sell them outside of games as digital collectible objects. Spivak (who confirmed to Game Developer that the 3D horse was his creation) also sells the models on other 3D asset platforms, including his own website and CGTrader.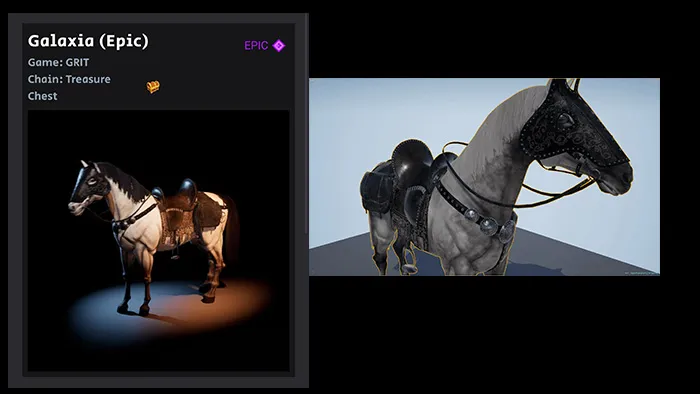 Without knowing which platform's terms of service applied to the use of this asset, it was difficult to determine if this use constituted a violation.
Spivak expressed ambivalence about Gala Games' use of his assets as an NFT, explaining that he himself wasn't familiar enough with the Unreal Engine asset store's terms of service to know if it was a violation. "If the model was purchased in the place where, under the terms of the agreement, it is prohibited to use it as an [NFT] lot, then of course I am against it," he explained.
(He did also note that he "didn't intend to do anything about it," if it was a terms of service violation, saying that he "felt no embarrassment." His kids have apparently advised him to stay out of the NFT market.)
Of course, the question about the legal status of using Unreal Engine assets for in-game NFTs has now been rendered moot. Gala Games' statement went on to boast about the other announcements made at Galaverse, and said that image swap "got lost in the shuffle" of preparing said announcements.
Despite the clarification, this mix-up is still a stumbling point for Gala Games. A spokesperson boasted yesterday that Grit's launch on the Epic Games Store would be "the moment where it's all going to change," as players' eyes would open to the benefits of "owning" items they purchase in video games. 
It isn't a great sign for prospective players that the first ownable asset for Grit was given away without proper scrutiny. It's also troubling that the game's debut raised worries about the asset theft that has plagued artists since the popularization of NFTs.