Leonora Carrington and Her Surrealist Life in Her Own Words
Leonora Carrington (1917-2011) is considered one of the greatest but most neglected British Surrealists. Her life story is a fascinating one: she abandoned her family for a painter about 20 years her senior, she lived in Mexico and kept on painting until she was 90.
We were the old good bourgeoisie
She was the only daughter (among three brothers) of a Protestant textile magnate from Lancashire, England, and his Irish Catholic wife Maurie. Although she said, 
Our family weren't cultured or intellectual – we were the good old bourgeoisie, after all.

Leonora Carrington, "Leonora and me", The Guardian.
The family lived in a sinister mansion, an imposing edifice that often featured in her later paintings. Her parents were very different in character; her workaholic father didn't approve of Leonora, or Prim as the family called her, going to an art college, but her mother intervened and eventually, she went to study Old Masters in Florence. If you look at her paintings you can see the love for gold, vermilion, and earth colors inspired by the Italian painting.
Max, he taught me everything
When she returned from Italy, her father wanted to marry her off. He launched her as a debutante and held a ball in her honor at the Ritz, and she was even presented to King George V!
Carrington despised the ball, and she poured out her loathing of the debutante season into a Surreal short story The Debutante. And then a breakthrough moment arrived: in 1936, when Carrington was 19, the first Surrealist exhibition opened in London. As she recalled: 
I fell in love with Max [Ernst]'s paintings before I fell in love with Max.

Leonora Carrington, "Leonora and me", The Guardian.
It was like an epiphany.
She met him later in person at a dinner party and fell in love head over hills. They left London already together to settle in Paris even though Ernst was married, and he was still seeing his wife. Carrington plunged into Paris and art: 
From Max I had my education: I learned about art and literature. He taught me everything.

Leonora Carrington, "Leonora and me", The Guardian.
She met Picasso:
A typical Spaniard – he thought all women were in love with him, [but] well, I certainly wasn't. Though I liked his art.

Leonora Carrington, "Leonora and me", The Guardian.
And Salvador Dalí:
I met him by chance one day in André Breton's shop. He certainly wasn't extraordinary then: he looked like everyone else. It was only when he went to America that he started looking extraordinary.

Leonora Carrington, "Leonora and me", The Guardian.
Take me to the Mexican embassy!
In 1938, right before the outbreak of World War II, Ernst left his wife and the couple moved to Provance. It was a great time of artistic creativity, one painted the other and Carrington also took up writing. Their idyll was shattered by the arrival of the Nazis who considered Jewish Ernst as an enemy alien and subsequently interned him. Sorrowful Carrington fled to Spain where she had a mental breakdown and ended up in a psychiatric hospital in Santander.
Carrington's father tried to get her out of the hospital and have her admitted to a sanatorium in South Africa instead. She didn't want that and while waiting for a boat with her father's business contacts, she escaped and jumped into a taxi. "Take me to the Mexican embassy!" she shouted. It was the first place that came to her mind, as she thought of her friend from Paris, Renato Leduc, who had been a Mexican diplomat. The only solution to her predicament he could think of was to marry her. So they did.
It was very weird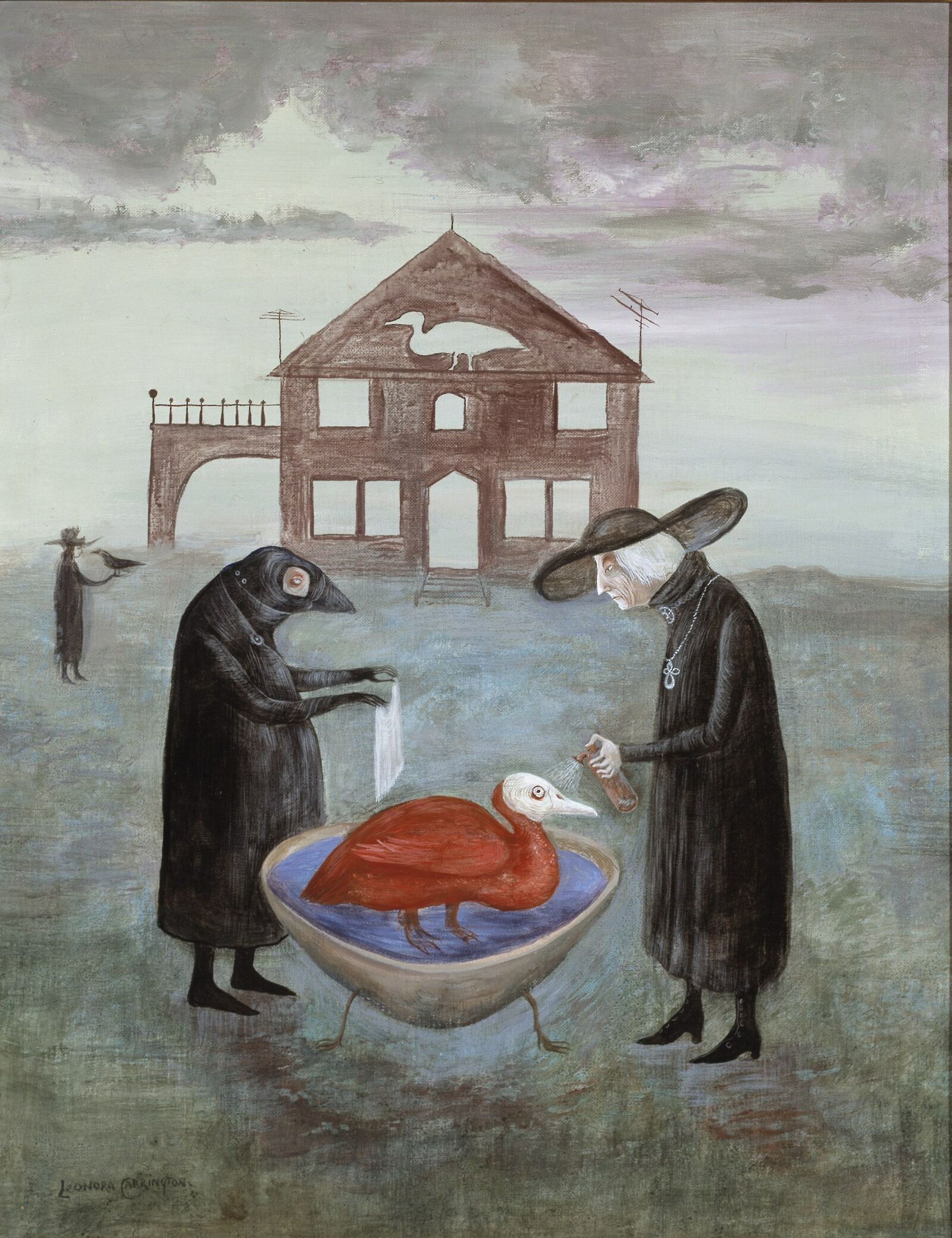 It was a marriage of convenience, and the issue got even more complicated. While the newly weds were waiting in Lisbon for the boat to take them to the US, Ernst showed up in town to take the same boat. He was liberated from the camp and seeing his new lover, the art collector Peggy Guggenheim. Carrington described this time as they waited together to go to New York as "very weird". Especially since Guggenheim's ex-husband, Ernst's ex-wife, and a group of children were also traveling with them.
When Carrington arrived in New York she dissolved her marriage and moved to Mexico, which gave her a new inspiration boost. She did sculpture and painting, which now was inspired by Aztec and Mayan myths. She also met a Hungarian photographer (and the darkroom manager for Robert Capa during the Spanish Civil War), Csizi ("Chiki") Weisz who, a few years later, became her husband. It was a happy marriage; they spent over six decades together and had two sons, Gabriel and Pablo. In 1970, she helped to found the Women's Liberation Movement in Mexico. She died at 94.