Outside the Bloomsbury Group: Dora Carrington
The members of the British art and literature group commonly known as The Bloomsbury Group came and went; love triangles, professional relationships, friends, and family were all part of an influential movement during the 1920s and 1930s. One artist remained outside the Bloomsbury group, virtually unknown during her lifetime, but is linked through its members: Dora Carrington.
Carrington, as she preferred to be known, was born in Herefordshire in 1893 to Samuel and Charlotte. The fourth child of five, she felt isolated from her parents and felt more at home in her artworks, a talent that was noticed at her school in Bedford.
Slade days
In 1910, Carrington enrolled at The Slade School of Fine Art in London. Among her contemporaries were Mark Gertler; Richard Nevinson; Stanley Spencer; and Paul and John Nash.
Carrington stood out from the very beginning. Long before the "flapper" style was in vogue, Carrington cut her striking hair into a bob. Her close friends at the Slade, Dorothy Brett and Barbara Hiles, followed her and the three became known as the Slade Cropheads. The portrait below shows the thickly cropped hair that turned many heads. The painting by Mark Gertler captures all the qualities that appealed to the men who encountered this intelligent and beguiling young woman.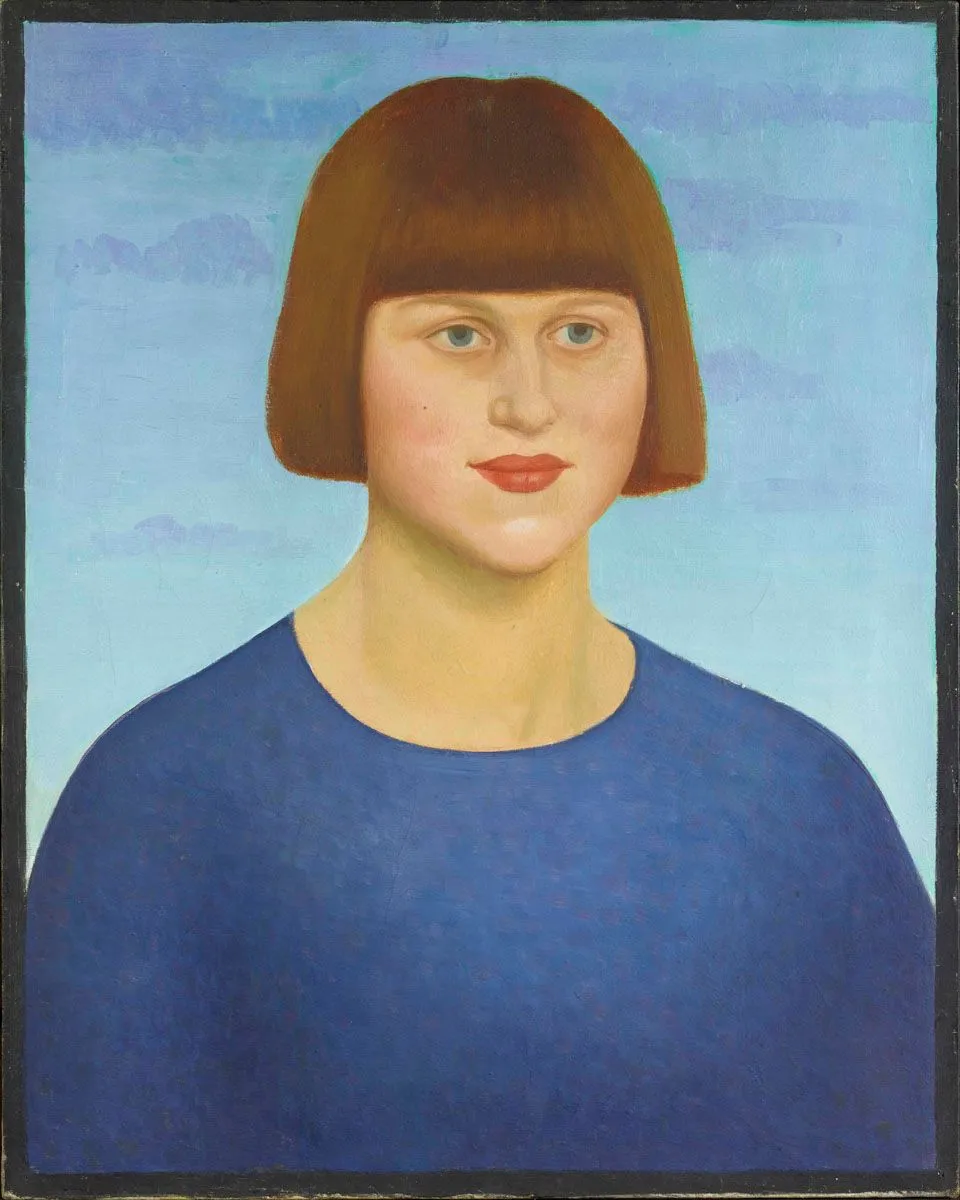 In this painting from 1912, Carrington may have followed some of the rules of the Old Masters, but her rendering of the different shades of light on the body and the way the figure turns away to preserve her modesty was very unexpected and sophisticated for such a young artist. The Slade School was progressive as it allowed its female students access to nude models. Here, Carrington offers a soft, sensuous depiction of the female form.  
Love triangles
At the Slade School, Carrington became the subject of desire for several of the artists. Her relationships with them were complicated, to say the least. Her upbringing with a mother that Carrington herself described as pious, left her with repressed sexual feelings, but this did not prevent her from developing close, intense relationships with the men in her circle: Paul Nash fell in love with her while his brother, John Nash, wished to marry her.
Albert Rutherston also fell for the enchanting young woman, but her desire for platonic love over a physical relationship left this young man in desolation. But her most complicated affairs involved Richard Nevinson and Mark Gertler, who had been the closest of friends but fell out when both fell in love with her. From Gertler to Nevinson:
I am writing here to tell you that our friendship must end from now, my sole reason being that I am in love with Carrington and I have reason to believe that you are so too. Therefore, much as I have tried to overlook it, I have come to the conclusion that rivals, and rivals in love, cannot be friends.

Mark Gertler to Richard Nevinson, letter.
Carrington refused to embark on a sexual relationship with either of these men as she was searching for an artistic soulmate. 
Lytton Strachey
In 1915, she met the love of her life: the writer and member of the Bloomsbury Group, Lytton Strachey. As always, there was a complication: Strachey was homosexual. Carrington's need for a physical relationship was minimal, but her love for Strachey was true and lasting. Even her marriage in 1921 to Ralph Partridge did not diminish the attachment, and the three lived together at Tidmarsh Mill House, near Pangbourne, Berkshire.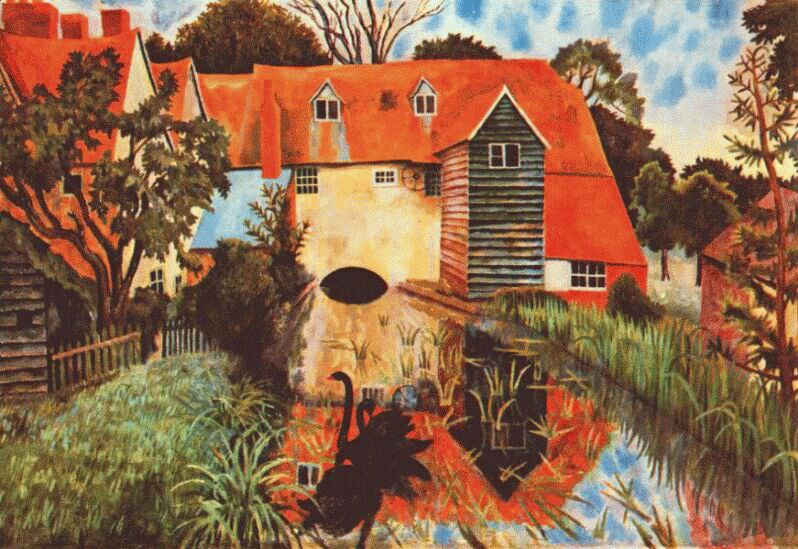 This landscape is a vibrant view of the house she and Lytton shared. The house is dominant in the landscape, and its warm, sunny palette contrasts with the tranquil grass and water. Here, Carrington was at her happiest.
The two had met because of the Bloomsbury Group. Earlier, in 1912, Carrington became friends with members of the group, some of whom tried to help her to establish herself as an artist, but her shyness made this impossible and kept her on the outside. Virginia Woolf commissioned her to produce woodcuts for the Hogarth Press. Of the group, Carrington said:
It was a marvellous combination of the Highest intelligence and appreciation of Literature combined with a lean humour and tremendous affection. They gave it backwards and forwards to each other like shuttlecocks only the shuttlecocks multiplied as they flew in the air.

Dora Carrington, attr.
Yet despite this admiration, Carrington remained aloof from the circle.  
It was at Garsington Manor near Oxford, the home of politician Philip Morrell and his wife, Ottoline Morrell, the patron of so many of the artists, writers, and poets of the time, that Carrington socialized most with the members of the Bloomsbury Group. But despite the work that came from Woolf and from Roger Fry, Carrington still remained on the outside.  
Her love for Strachey was different from all the previous relationships she had encountered. When they met at Garsington and went for a walk, Strachey tried to kiss her, but Carrington was repelled by his beard. To get her revenge, she crept into his room while he was asleep, armed with scissors to cut off the offending item: he awoke and gazed at her with such intensity, that she immediately fell in love and the two became inseparable.
This portrait of Strachey, from 1916, is very interesting. His long tapering fingers and bushy beard are a focal point. Everything about Lytton Strachey is elongated and languid, and Carrington captures a warm feeling about a man she was deeply attached to. Carrington painted this in a year of turmoil caused by the war—especially with her brother missing on the Somme. The intimacy of the portrait, cropped closely, is tender and is perhaps the most honest of all her works.
Her later marriage to Ralph Partridge, a writer from the group, surprised her friends, and the fact that the two continued to live with Strachey led many to believe that there was indeed a love triangle here. In fact, it was Partridge who was in love with Carrington, Carrington with Strachey, and Strachey with Partridge. Carrington's reasons for marrying Partridge were practical, as a means of keeping the three together, outside the traditions of marriage. 
Why then should I prolong a miserable existence?
While her love life continued to be complicated as she had affairs with both men and women, Carrington was producing beautiful artworks that were still not being shown. A talk with Roger Fry had sealed Carrington's belief that her work was not good enough. A beautiful example of her landscape work is this from 1924. She wrote to her lover, Gerald Brenan,
I am working on the landscape you liked; the round mountains near the gorges. I am trying a new plan, an entire underpainting in brilliant colours, over which I shall glaze green and more transparent colours. 

Dora Carrington, attr.
The undulating hills in the foreground sensuously contrast with the jagged peaks of the Sierra Nevada mountains. The whole painting vibrates with warm, vivid colors, and contrasts with her landscapes of the British countryside in hues of blues and greens. The trail of people traveling through the mountainside is dwarfed by the majestic hills in front of them.
Carrington's world came crashing down around her when, after a period of ill health, Lytton Strachey died of stomach cancer on the 21st of January 1932. In her diary, the bereft Carrington wrote:
A man who retires from life does no harm to society. He only ceases to do good. I am not obliged to do a small good to society at the expense of a great harm to myself. Why then should I prolong a miserable existence… I believe that no man ever threw away life, while it was worth keeping.

Dora Carrington, attr.
While Strachey was dying, Ralph saved Carrington from gassing herself in the motor car, but it seemed that it only prolonged her agony. On March 11th, dressed in Strachey's dressing gown, Carrington shot herself at their home. The gardener found her and called for Ralph to return. He found her mortally injured and later that day, she passed away to join her beloved Lytton.
Carrington's artistic legacy remains. Sadly neglected in her lifetime, it took the Bloomsbury writer David Garnett, who published her letters and diaries in 1970, to help secure her connection to the group that she was always outside of. Sir John Rotherstein, Director of the Tate in London called Carrington "the most neglected serious painter of her time."