THE ULTIMATE OF THE ULTIMATE
Stepping out of its comfort zone, the brand managed this feat by unveiling the slimmest, thinnest watch in its category. The thickness of its case is no more than 1.75mm!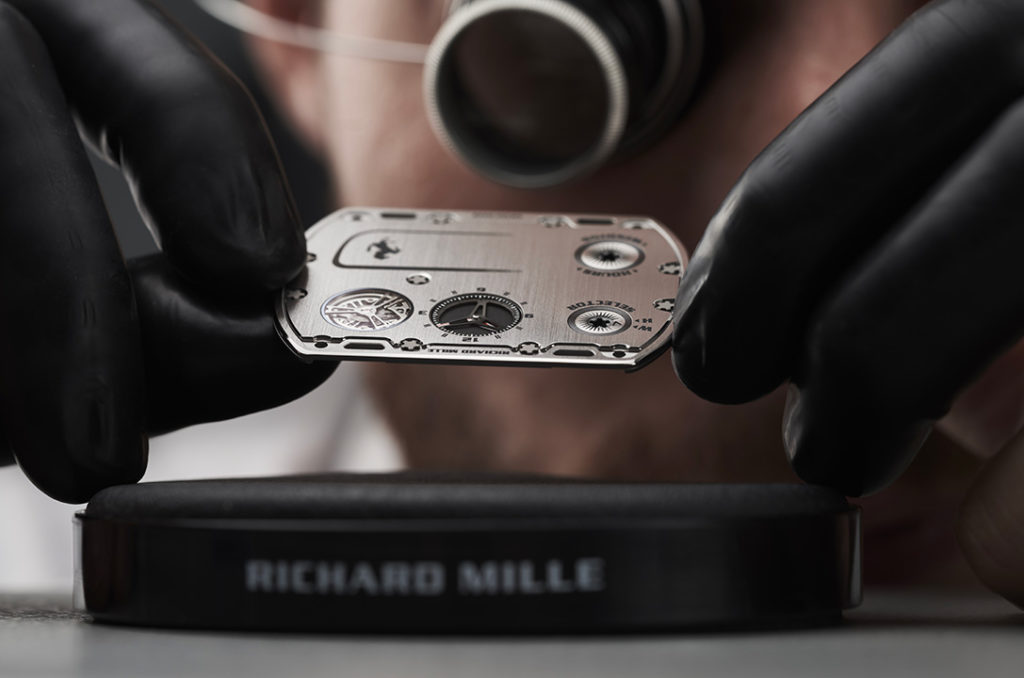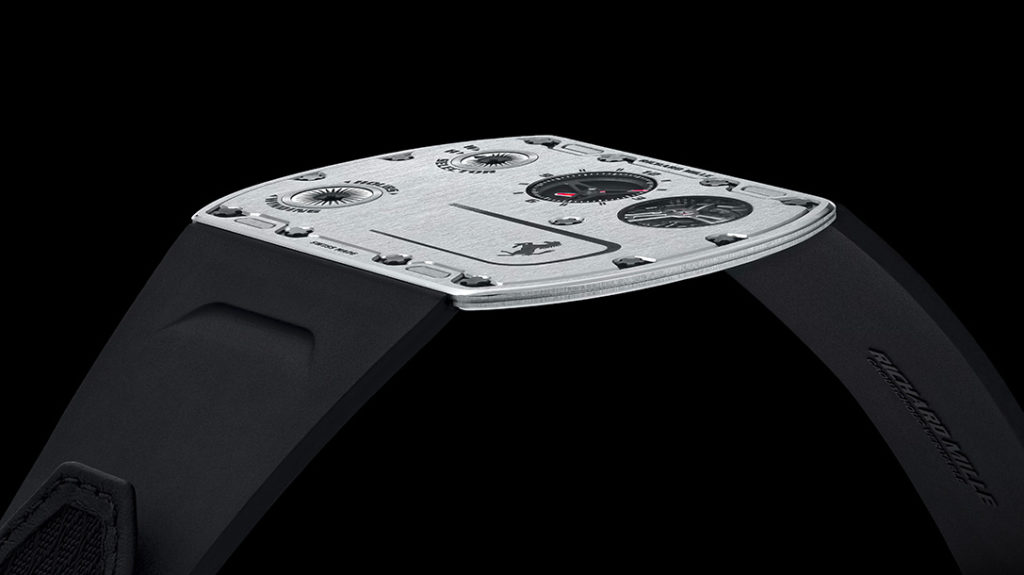 Surprise is an art Richard Mille cherishes. The first creation representing the partnership with Ferrari demonstrates the ability of the Les Breuleux watchmakers to raise innovation to a level rarely encountered. One only has to discover the RM UP-01 Ferrari to be convinced. Its 51mm x 39mm case in grade 5 titanium, 1.75mm thick and weighing only 30 grams, required 2,000 hours of development. Four round elements stand out. A small dial composed of a black disc with a red tip plays the role of the hour hand. On top of this is a piece structured like a steering wheel with three openworked branches. One of them, adorned with a thin red and white edging, enables the reading of the minutes. Two crowns can be operated with either a finger or a special tool. One serves as a function selector, the other acts according to the option taken: setting the timepiece or winding the movement. The balance wheel brings its rhythm to life in this refined, grey satin finish monochrome setting.
The omnipresence of titanium in a large part of the components guarantees an exceptional rigidity. The 150 examples of the RM UP-01 Ferrari can withstand a shock of up to 5,000g. This corresponds to a fall of one meter high on a wooden floor. To obtain its exceptional dimensions and performance, 3,000 hours of reflection and collaboration with Audemars Piguet engineers were required to finalize the manual winding caliber with a 45-hour power reserve and, in particular, the design of an ultra-flat escapement. More than ever, experience is key to breaking boundaries.