Serpenti Seduttori Tourbillon: beauty at its finest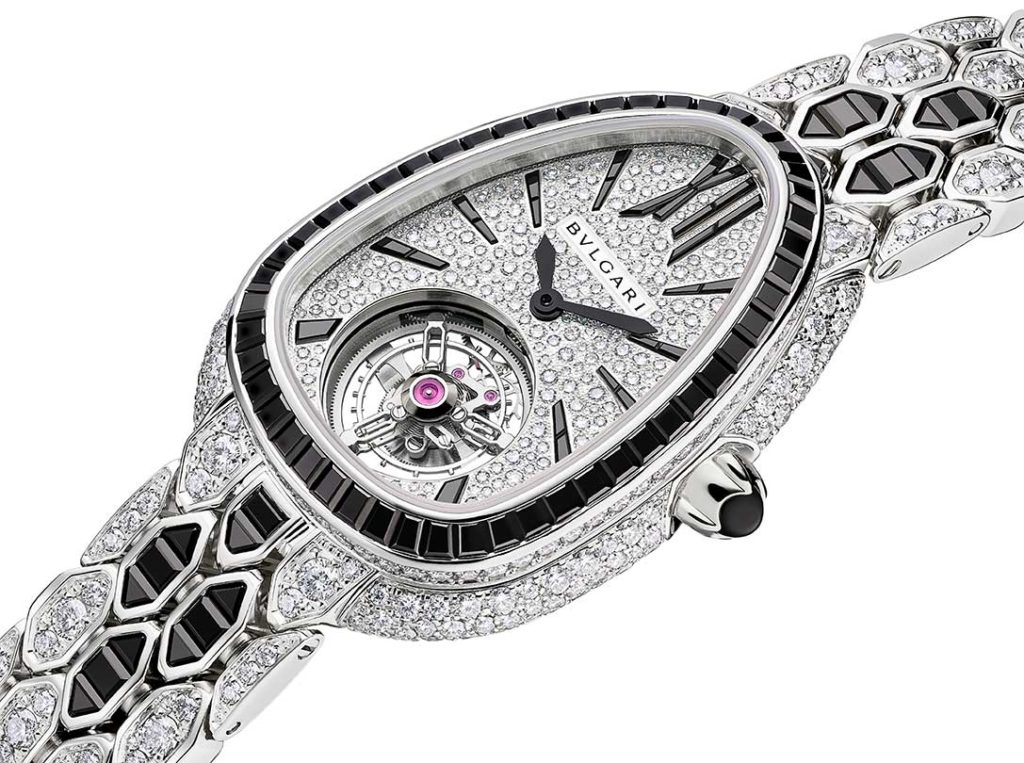 Towards the middle of the 20th century, an incredible new creation was born to be wrapped around the most discerning wrists. Since then, its multiple descendants never cease to mesmerize, irrespective of their finery. Its face takes the features of a stylized snake head. Its body coils with voluptuousness. How can one not fall under the spell of the Sepenti watch? Synonymous with unambiguous femininity, the models adapt to the spirit of the times, combining the right material and exemplary finishes. In 2020, the remarkable Serpenti Seduttori Tourbillon combined fine watchmaking with fine jewelry. Enchantment reached its pinnacle.
This year, Bulgari is offering a fresh approach to its prestigious model. Approximately five carats of diamonds and seven carats of spinels adorn this unique variation in white gold. Colorless gemstones of exceptional purity pave the dial and surround the case. Its ideal proportions, 34mm in diameter and 9.40mm thick, give it the appearance of an exceptional jewel, enhanced by the incomparable brilliance of the jet-black gems positioned on the bezel, crown, and indexes. This stunning scenography highlights the regulating organ driven by the BVL 150 caliber. Despite its XS size of 22mm x 18mm, this hand-wound movement with 40 hours of power reserve has all the makings of a grand watch. To accentuate the watch's exclusive personality, its wristband blends brilliant-cut diamonds and baguette-cut spinels to create a harmonious graphic composition in a very timeless Art Deco style. And the good news is that with the Serpenti Seduttori Tourbillon, femininity is not lost!