The Importance of Facial Structure and their Underlying Messages in the Perception of MetaHumans
Much research has been done on humans towards examining the hidden messages certain facial characteristics can convey (Carré et al. 2009; Třebický et al., 2013; Zilioli et al. 2015; Hehman et al., 2015). It is known that certain distinct facial features as well as heavy makeup can inspire bias. A fiery red lipstick in combination with high cheekbones and thin arched eyebrows could suggest a more evil personality (Duffy, 2019), as can be seen in Disney's Maleficent. Which raises the question: How can we use these features to our advantage to create more realistic characters using subtle facial clues?
How to use Facial Characteristics to Influence Perceived Aggression
When examining faces, eyebrows are a key component in conveying different messages. For instance, according to Hehman, people with naturally more downturned brows are often perceived as less trustworthy and having a bad temper, whereas upturned eyebrows are seen as more trustworthy (Hehman et al., 2015).

Research by Carré (2009) underlined the importance of facial width, as this is a marker for aggression and dominance, that can be picked up by others. For men the combination of an increased facial width, downturned eyebrows, a broader chin, a lower forehead, and a larger nose resulted in a higher level of perceived aggression (Carré et al. 2009; Třebický et al., 2013; Zilioli et al. 2015). These markers could also be applied to women, however, in their instance only facial width comes in to play. Furthermore, they possess another marker that men do not have, which is influenced by their levels of cortisol, lower levels indicating a higher perceived dominance (Gonzalez-Santoyo et al., 2015).
In accordance with these findings the MetaHuman software can be used to create a more 'dominant/aggressive' looking character. When aiming to create a more dominant character primary cues of above research should be kept in mind. Key factors such as facial width, eyebrow stance, nose size, forehead positioning and levels of cortisol, should be looked at and the grids made by Třebický et al. (2013) and Gonzalez-Santoyo et al. (2015), used as references.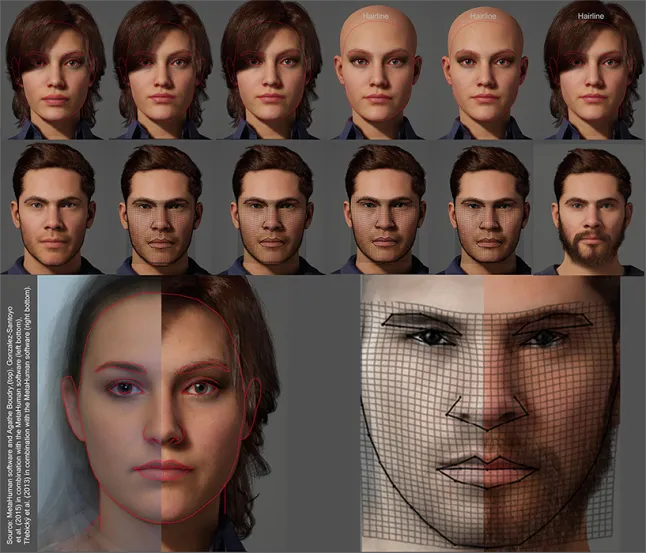 Conclusion
To conclude, facial characteristics can be used to inspire certain impressions, however it is needed to consider the influence it will have on the liking of said characters. Creating a character using the characteristics mentioned above; increased facial width, downturned eyebrows, a broader chin, and a larger nose, will lead to them being perceived as more dominant/aggressive. Whereas creating a character that does not conform to their typical gendered characteristics will lead in a more negative perception of said character. However, creating a character while mixing the opposites of dominance and submissive results in a more neutral character and a higher reported liking.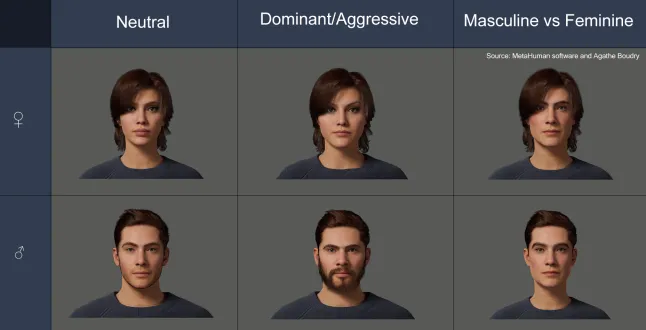 As this article only scratches the surface of the subject, please reach out to me for the full paper if you want to read more on this topic.