Gwen John in Post-Impressionist Paris
A glimpse into the life of the Welsh daughter who ran away to Paris to paint. Let us follow Gwen John in Post-Impressionist Paris.
Gwendoline Mary John was born in Wales in 1876. A solicitor's daughter who painted watercolor pictures of shells she found on the beach, Gwen John quickly realized that the small seaside town of Tenby could not offer her the challenges she both needed and desired.
Gwen John Leaves for Paris
At 19 she moved to London with her brother Augustus John to attend the Slade School of Art. At the time this was the only school that allowed women to attend. However, by 1903, even the stimulation of the London art scene was not enough for her. Thus, still in her 20s, Gwen John moved to Paris where she quickly became an established member of the Parisian art world.
A Recluse?
Gwen John's obsession with painting solitary figures in bare interiors has resulted in art historians pigeon-holing her as a reclusive, domestic artist. But this label is both lazy and inaccurate. In fact, she moved abroad alone, as a young woman, with few contacts and little money. Sometimes she even slept rough. It was an incredibly brave and ambitious decision.
Parisian Art Society
Settling in Montparnasse, Gwen John quickly became a part of the artistic social circles of Paris. She developed friendships with many other female artists such as Mary Constance Lloyd and Ida Nettleship and her letters back to Wales talk of these friendships, of boat trips on the Seine, of visiting galleries, and sitting drawing in pavement cafes. While it might be said that she was shy with strangers, there is no doubt that this young woman was enjoying a rich and exciting artistic life.
Tenby Girl Turned Parisian Muse
Artists would often have to boost their meager income with modeling fees, and John was no exception. A year after moving to Paris, in 1904, Gwen John met art celebrity Auguste Rodin. She became his model, his muse, his lover and their intense and stormy relationship lasted a decade. She was utterly devoted to her much older lover but this devotion became something of an obsession. Eventually, Rodin resorted to using his assistants and secretaries to keep Gwen John at a distance.
Love and Friendship
Obsessive passion became a trait in many of Gwen John's relationships. She had relationships with both men and women and rubbed shoulders with all the great art names of her time, including Picasso, Matisse and Brancusi. She was also a great friend of the poet Rainer Maria Rilke.
The war years 1914-1918 made exhibiting almost impossible, but in 1919 she made her debut at the Salon d'Automne (a famous annual art exhibition). This was established as an alternative to the official "Paris Salon", something considered too traditional and stuffy by younger artists.
Gwen John became a distinguished figure amongst her peers in the Parisian art world. She was knowledgeable, and always kept abreast of new developments. In addition, she was confident in her judgment and gave amusing, acerbic and astute opinions on art. Upon seeing Cézanne's watercolors she said:
These are very good, but I prefer my own.

Gwen John, in: Gwen John, Cecily Langdale, 1986, Yale University Press.
Turning to the Church
When her passionate relationship with Rodin came to an end, Gwen John turned to the Church. The hellfire and brimstone preaching she knew in Wales was nothing like French Catholic discourse, with its reverence for the Virgin Mary. In Catholicism, she found comfort, and quietude and her notebooks from the period show meditations and prayers as well as sketches.
As she grew older, Gwen John became increasingly interested in the life of the interior. Some speculate that she realized her passionate and sometimes obsessive relationships were a distraction from her art. But why do we so often judge a woman who chooses to live and work alone as a negative act? Gwen John had always lived frugally, but now she moved to the outskirts of Paris to the village of Meudon, a wooded village with views over Paris.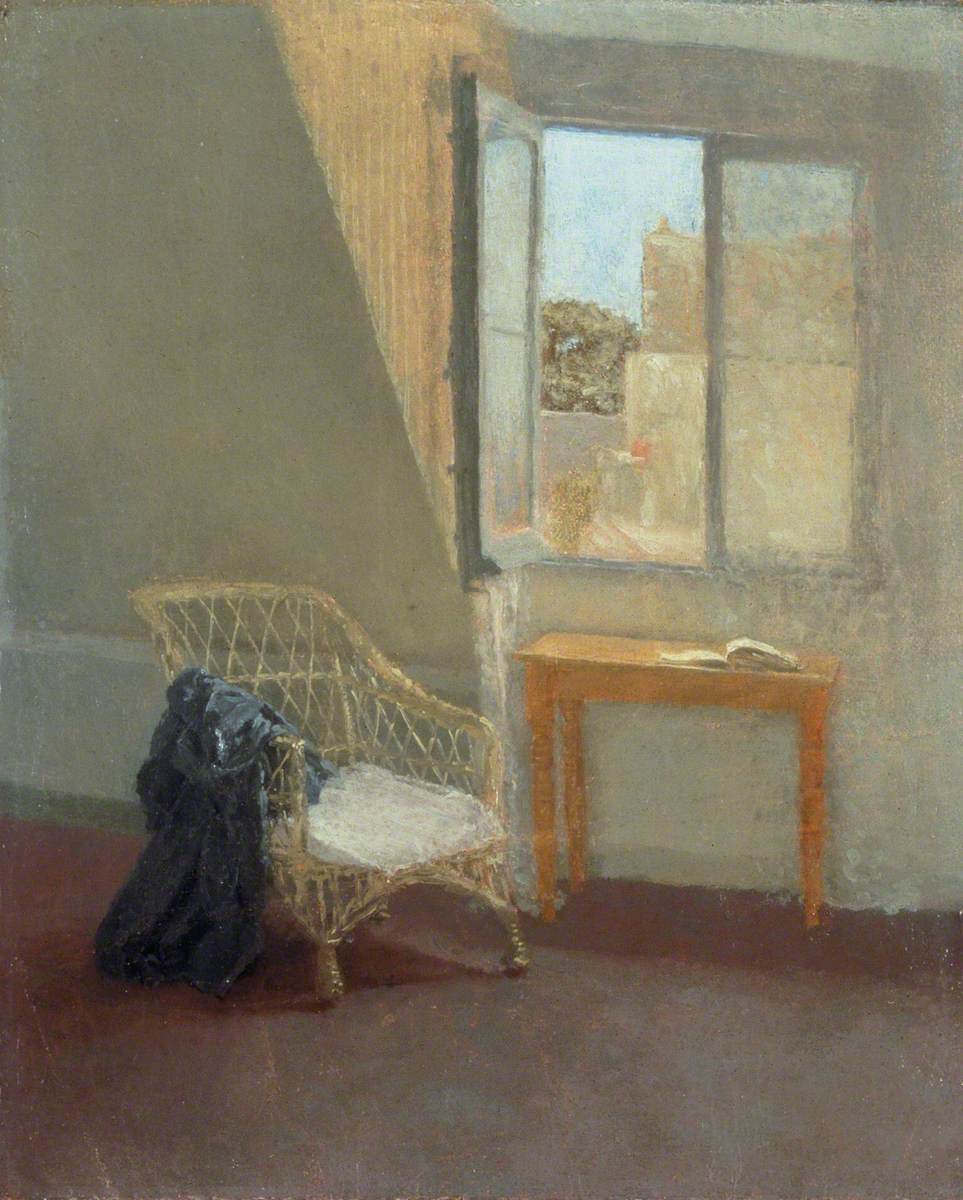 God's Little Artist
First settling in a humble village room, Gwen John later moved on to little more than a shack in an overgrown garden which she tended lovingly for years. Active in the life of the local church, with strong links to the local chapter of Dominican nuns and surrounded by her cats, she continued to pursue the life of the mind. She called herself "God's little artist" (Alicia Foster, Gwen John, 2015, Tate Publishing).
Women and Freedom
Most of Gwen John's paintings are portraits of women. We don't know who many of these women are, but they clearly fascinated her. She painted them sitting or standing. Most held their hands in their laps or sometimes held a book. At other times the room she painted was empty, but with hints that someone had just left or was returning. What might be seen as mundane objects – a book, a parasol, tea for one on the table, are actually the signifiers of a free woman, who comes and goes as she pleases. What we see in these rooms and these portraits is a woman interested in independence and education. A woman interested in the reflective life. And it was through these images, through these women, that Gwen John explored her own sense of identity.
Painting Technique
In her paintings, the artist liked to use subtle, muted colors. She developed a technique of applying thick paint in small touches to create texture. Look up close and you can see a shimmering mosaic of miniature dabs of color. In Paris, Gwen John studied with James Abbott McNeill Whistler from whom she learned about the immense power of subtle color.
Whistler believed painting was a logical discipline, stating that he did not teach art, but a scientific method. In response to his teaching, Gwen John developed a detailed numerical disc for tonal values, which allowed her to find colors that would complement each other exactly. She also prepared her canvases herself, to her own exacting standards.
But the real genius of Gwen John is her ability to create a mood. Look into a Gwen John canvas and you are drawn into her world. These are quiet women, encountered in moments of private contemplation. They do not look out at the viewer for reassurance. Instead, they are quietly assertive, at home in their own skin. Their rich interior world is what holds their focus, and ours.
As she matured, the interior setting and the interior world are what called to Gwen John, and her paintings display a delicious balance between the calm, simple setting, and what we imagine to be the intense and passionate internal life of the mind of the sitter.
Keep the World Away
The National Library of Wales has thousands of documents, drawings and letters by and about Gwen John. This little quote gives us a fascinating insight into her later life:
Rules to Keep the World away: Do not listen to people (more than is necessary); Do not look at people (ditto); Have as little intercourse with people as possible; When you come into contact with people, talk as little as possible.

Gwen John in her private papers, 3.03.1912, National Library of Wales.
Wealthy Patron
For many years an Irish-American patron, John Quinn, purchased everything Gwen John produced. Quinn was a major collector of Post-Impressionism and it was Quinn who introduced her work to an American audience, exhibiting her alongside Picasso, Seurat, and Cézanne. When Quinn died in 1924, Gwen John's output declined. In 1939, aged 63, with another war threatening Paris, Gwen John headed for Dieppe on the coast, perhaps planning to travel back to England or Wales, but she collapsed and died, still on her beloved French soil.
Neglected Genius
Gwen John has been neglected for many years, perhaps because the men in her life were more famous, more flamboyant. To many art historians, she was merely "a model" for the founder of modern sculpture, Auguste Rodin. To others, she was merely "the quiet sister" of the bohemian, larger-than-life Augustus John. In fact, she was long considered one of the least interesting of the Parisian Post-Impressionists. However, this view has gradually changed, and now her incredible talent is allowed to shine. Today she has a firmly established part in the history of Parisian art. The personal freedom Gwen John gained in Paris is there in every brushstroke, in every portrait. Passionate, independent, sincere: Gwen John was a pioneering woman of her time, and of ours too.