THE TWO MAKE A PAIR
With the 20th caliber, the friends are making a thunderous return to the forefront of the watchmaking scene. On the program: a movement with two chronographs and multiple modes!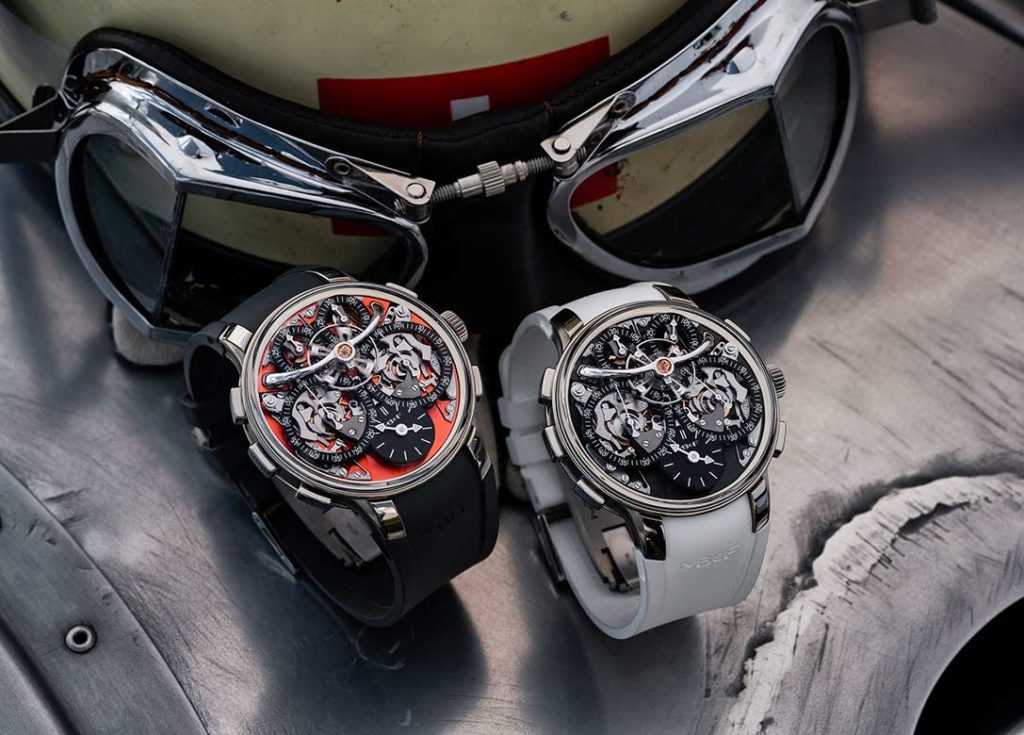 The aesthetics are well known. A flying balance at 12 o'clock sustained by a polished arch dominates a mechanical composition on which time data progresses. The new LM Sequential EVO by MB&F is much less so, however, precisely due to the functions it offers. In addition to the off-center dial at 6 o'clock for the hours and minutes, four symmetrically positioned discs stand out, as do the five push-buttons set in the case middle of the 44mm diameter zirconium case that is water-resistant to a depth of 80 meters.
Fruit of the fertile imagination of the erudite watchmaker Stephen McDonnell, the caliber of this watch is remarkable for its ability to measure time like no other mechanism up to now. It incorporates not one, but two chronographs. This duo can operate in complete independence. Nonetheless, an ingenious mechanism known as the Twinverter orchestrates various alternatives by pressing the button at 9 o'clock. The simultaneous mode offers the possibility of running two measurements at the same time and stopping them at the end of each event. The "cumulative" or "sequential" option allows for multiple practical timing capabilities on a daily basis. To power this double chronograph, the hand-wound movement assembled with 585 components is equipped with two cylinders. It also supplies 72 hours of power reserve, which is highly convenient for monitoring performance during a sports competition or simply for monitoring the cooking of two dishes requiring special attention.