People-friendly furniture in public places matters more than ever in today's city
Increasing urbanisation, denser city living, more expensive apartment prices and higher rents are reshaping our access to and use of urban space. Room-sharing websites are one sign that the cost of city living is driving people to consider sharing rooms with strangers out of necessity. Those flats are not homes anymore.
If people can't spend time in their flat – because it is too crowded, too noisy or not safe enough – they end up spending more time in public spaces like libraries or quasi-public spaces like gaming arcades or shopping malls. Dutch Prizker Prize-winning architect Rem Koolhaas calls this Junkspace. Or they are spending time in the street, plazas and parks.
---
Further reading: Contested spaces: living off the edge in a city mall where design fuels conflict
---
How does the city cater for people in these places? Imagine a home furnished with the kind of furniture we typically see on the street. Would it feel comfy?
Generally the design of this kind of public furniture has a strictly defined scope. It has to be vandal-resistant, easy to install, require little to no maintenance, not encourage littering, tie in with the style of the precinct, etc.
Public furniture also has an established typology – benches and seats mainly. This restricts what we can do in public (sit down with a straight back, we can't lounge). These are part of the design considerations to provide a bench for people to sit on.
What if we want to do more than just sit?
The spacing, positioning and location of furniture in public space play a big part in deciding what I can look at, with whom, for how long and how I'll feel while sitting there.
But what if I want to do more then just sit there? Where, for instance, do I plug in my phone or laptop to recharge?
It is also not easy to wash my hands in a public space. For example, I've sat down and eaten an orange on a bench, my hands are sticky and I'd like to wash them. Perhaps I've also taken off my coat while sitting there. What now?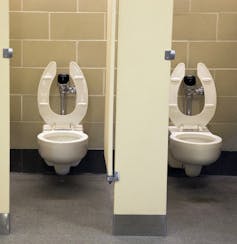 I've got to seek out the nearest public toilet and use the hand basin, but where to put all my other belongings while doing that? On the toilet floor?
A basic human right is access to water and utility services. We need to provide this access in the public sphere, and not just in commercial environments like coffee shops.
Filling up a water bottle is not easy, buying water is – if you can afford it. This is not an equitable solution. It adds to the already significant financial burden of paying high rents and city living.
Think about how design can expand our options
While we have furniture for the street, the street, parks and plazas lack other services. Design embeds a narrow social script in the current range of street furniture. The design of new public furnishings needs to adapt and offer citizens a wider, more diverse range of options for being in the city.
For example, people should have access to facilities to carry out basic healthy living practices, such as washing hands. They also need access to power – perhaps even a facility to heat up food, like a home-made lunch, or a pre-prepared meal from the supermarket.
Furnishing a public space with such new public appliances could transform it, soften it, bring familiarity, comfort and a sense of domesticity to it; a public backyard. The opportunities for a smart city are not just large-scale infrastructure, public transport and traffic monitoring, but also exist at a finer-grained level.
These new kind of street furnishings can be made available to users via a contemporary, digital version of the old city gate. It can require them to log in or authorise them to use equipment via a unique identifier. We already practise this on e-commerce and sharing economy websites.
This new kind of public street furniture can have sensors embedded that monitor and respond in real time to their use. Interactive furniture can be part of a larger dedicated data system. It can inform relevant authorities if the power point is drawing excessive power, or if the noise level at this power point is too loud for the time of day and, in response, turn off the lights and the power.
Parameters can be tested and the calibration of use and user patterns can be explored in line with neighbourhood expectations. The system can then autonomously react to the data gathered.
---
Further reading: Lessons from Adelaide in how a smart city can work to benefit everyone
---
Street furniture can be reconceived as connected and interactive appliances. These would then provide a gateway that gives people access to everyday utilities. And, by doing so, these new facilities could provide quasi-domestic-style amenity in the public realm, making the city a more equitable and welcoming place for all.